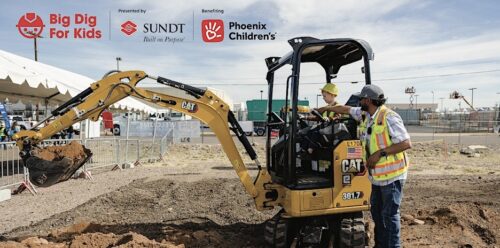 The Big Dig for Kids gives Phoenix Children's Hospital patients, and invited guests, the opportunity to explore, interact, and operate heavy machinery, including scissor lifts, excavators, and more! This one-of-a-kind fundraising event promotes healing for Arizona's children, while sparking curiosity and wonder for our construction community.
We are excited to be involved and sponsor a Kid's Zone activity booth this year. This is an awesome opportunity for the construction community to come together to raise funds for Phoenix Children's Center for Cancer and Blood Disorders' MIBG Targeted Therapy program while our employees get to volunteer onsite and patients explore construction equipment and interact with our team through Kid Zone activities!
Big Dig for Kids Event Recap Video
Volunteer to help run our Kid Zone Activity Booth (looking for 10-12 volunteers):
Email Elicia DuPont elicia.d@cmsaz.com or call/text Elicia at 480-261-8381
Additional details and shift schedule will be shared with each person interested in volunteering.
Donate:
Feel free to share the donation link with family, friends, vendor partners, etc. to help us fundraise to support hope and healing at Phoenix Children's Hospital. With your support and the support of the other sponsors and donors we hope to help The Big Dig for Kids Board of Directors meet their goal of raising $1,000,000 for Phoenix Children's Center for Cancer and Blood Disorders' MIBG Targeted Therapy program. MIBG therapy is a type of radiation therapy used to kill cancer cells in children. It is a way to get radiation inside a child's body to target cancer cells wherever they are while preserving healthy cells. There are only 22 hospitals in the country that currently offer MIBG treatments and currently there aren't any in Arizona. The Big Dig for Kids event raises funds to support the construction of Arizona's first MIBG treatment facility at Phoenix Children's.
Attend w your family:
Email your RSVP to elicia.d@cmsaz.com We have a limited number of tickets so please ONLY RSVP if you know you can attend. Tickets will be distributed on a first come, first served basis.
Event Date: Saturday, November 4, 2023
Hours: 10:30 a.m. – 1:00 p.m. (8-10am is dedicated to Phoenix Children's patients and their families. Please do not arrive before 10:30am)
Location: 28th Street & Washington Street
Activities to Enjoy: In the Kids Zone kids can enjoy activities ranging from duck races, coloring stations, mixing kinetic sand, giant Jenga, trivia, a fishing pond, face painting, marble run, and more. In the Giant Sandbox there is massive construction equipment/machines the kids can climb and operate with the help of professional operators. There will be boom lifts, scissor lifts, excavators, backhoe, front loaders, and much more.
All kids will receive:
Big Dig For Kids safety vest

Jr. Operator badge & lanyard

Big Dig for Kids cinch bag to carry all of their Kid Zone goodies
EVENT DISCLAIMER: Construction equipment will be demonstrated on site and may stir up dirt and dust. Parents of immunocompromised children should rely on their child's doctor for guidance on any potential needed accommodations.