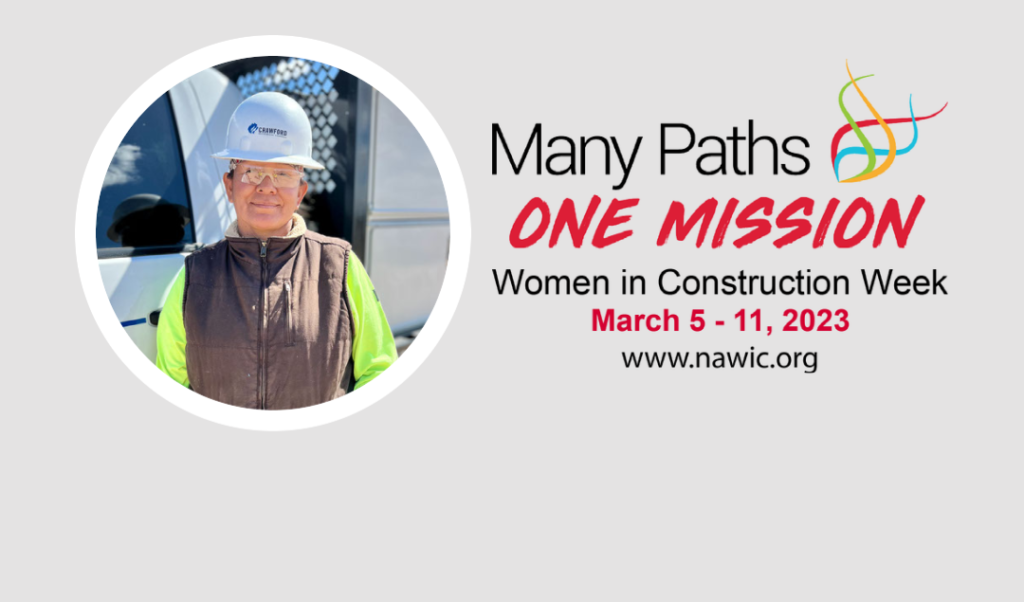 Women in Construction Week '23: Cindy Whitehat, Welding Journeyman
WIC Week™ or Women in Construction Week™, celebrates and promotes the role of women in the construction industry (https://wicweek.org)  In observance of this year's theme, "Many Paths, One Mission," we  bring you insights into the unique paths and strengths of the women that work at Crawford Mechanical and who support the mission of women in construction everywhere.
Interview with Cindy Whitehat, Welding Journeyman
Q: What advice would you give to women thinking about a career in construction?
A: As a woman construction worker, a lot of people think you're not enough or that you shouldn't be out there, especially being a welder. You are better and stronger than a lot of people, but you will have to let your work do the talking, no matter what. Through the years I see more and more ladies on the job, more and more women welders and pipe fitters. Get on a job with a skill, don't just be a helper on jobs. Get on a job to know something and let your work speak for itself.
Q: What led you to construction?
A: I grew up in Paige, AZ and went to Arizona Welding Institute (now closed) after high school. We grew up with nothing on the reservation. Welding was the way out, to get a job and get off the reservation. Since 2000 I've been a high-pressure tube and pipe welder building power plants, working on chrome pipe welding. I met my husband on the road, welding. We were heavy welders (nuclear plant shutdowns, stainless, 9 chrome, carbon, rig welding, refineries). We traveled the country from Florida to Alaska picking up welding jobs, until my husband passed in 2017. At that time, we had two small children so I took a job as a welding instructor for RSI and taught there until the pandemic.
Q: What did you do prior to starting at Crawford?
A: Prior to working for Crawford, I was a high-pressure pipe welder working 7 days a week, 12 hours days. I didn't want to do that anymore. A former student from RSI introduced me to Scot Holcomb at Crawford and I started welding for Crawford that following Monday. Working at Crawford I can go home to my kids every night (son Brandon 17, daughter Brooke 15) and spend weekends together on our ranch north of Flagstaff or participating in roping or rodeo competitions.
Q: Is there something in your career that you're most proud of that you've achieved?
A: Welding is very competitive. There are a lot of really good welders out there. A lot of lady welders give up and go onto something else because of discrimination and the strain and fight to prove themselves. I could have given up a few times a long time ago, but I have an ego too. Welding wise, I let it speak for itself. The best welder was this man I looked up to from Mexico. I told him, "One day I will weld just like you." He was running 5/32 rods at 160 amps. I lived up to my word in 2012. I was running 180 amps on 24" main steam line for the Navaho generating station, 3 days of welding, just burning rods all day.
Q: What advice would you give to someone thinking about a career in welding?
A: There are a lot of hazards out there. On the way to work, at work, on the way home. If I take a shortcut and go onto the next weld, somebody else is going to pay for the shortcut I made. I may never find out who, but someone else will pay for it. That's why we have the 360 rule. Make sure your surroundings are safe and don't take shortcuts.
Q: What do you hope will be your legacy?
A: The way you treat people and the way you speak to people are what you are going to leave behind. That's what people remember. How you treat people.