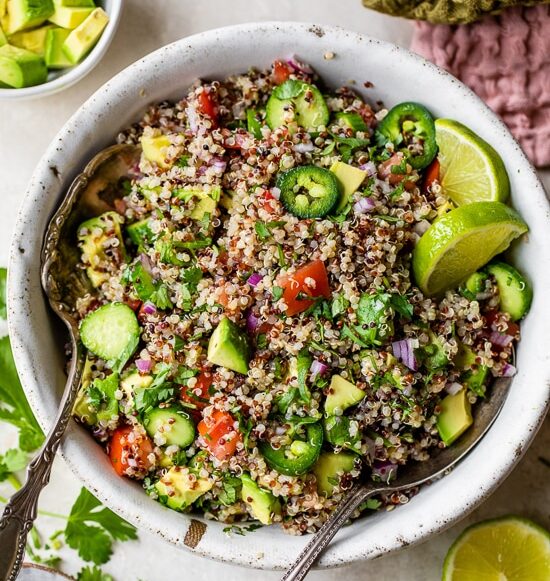 Southwest Salad
Avocado Quinoa Salad is fresh and flavorful, made with cucumbers, tomato, red onion, cilantro and lime juice. A great plant-based lunch or side dish.
Source
https://www.skinnytaste.com/avocado-quinoa-salad/#recipe
Ingredients
Quinoa (preferably red or tricolor quinoa)
Avocado (if you're meal prepping this salad, combine everything and add the avocado right before eating)
Cucumber
Tomatoes (preferably large beefsteak but cherry or grape tomatoes will work)
Red Onion
Jalapeño (leave the jalapeño's seeds and ribs in if you want a spicy salad. If you prefer milder food, remove them)
Fresh Cilantro (skip the cilantro if you don't like it)
Dressing (olive oil, lime juice, salt)
Recipe
1 1/2cups cooked quinoa, red or tricolor

8ounces haas avocado, from 2 small, diced

juice of 1 lime

1 ripe beefsteak or heirloom tomato, diced

2mini cucumbers, diced

1/3cup chopped cilantro

1/3cup chopped red onion

1 jalapeño, sliced thin with seeds

1 teaspoon extra virgin olive oil

1/4 teaspoon kosher salt, plus more to taste
Instructions
Combine all the ingredients together in a bowl and eat right away.

Taste for salt and lime juice, and adjust as needed.

If meal prepping, combine all the ingredients except for the avocado, and add when ready to eat.

Multiply the recipe for more servings.
Notes
If making the quinoa on the stove, I use less water than recommended. For 1 cup quinoa, I use 1 3/4 cup liquid.
This healthy quinoa salad makes a great vegan lunch for 2 or a side dish for 4 with any protein. Double this recipe for more servings for a crowd, adding the avocado just before serving.
Makes 3 1/4 cups.
Nutrition
Serving: 1 1/2 generous cups, Calories: 443 kcal, Carbohydrates: 55 g, Protein: 11 g, Fat: 23 g, Saturated Fat: 3 g, Sodium: 174 mg, Fiber: 16 g, Sugar: 9.5 g